Wembury Marine Centre is a BSAC accredited Snorkel Centre.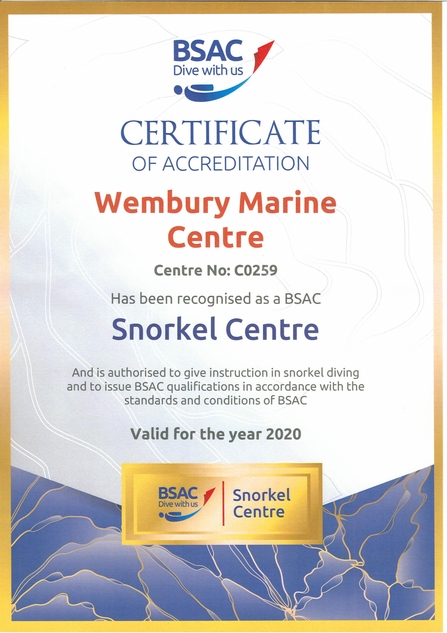 Come and join our fully qualified BSAC Snorkel Instructors on a guided Snorkel Safari and we'll take you on a family-friendly underwater adventure right here in Wembury bay!
Our public Snorkel Safaris run from the end of June - end of September each year and booking is essential. Please note children must be 8 years+ to attend.
Snorkel Safari events cost £20 per participant and we have full equipment to borrow in a wide range of adult and child sizes at no additional cost (loss and/or damages must be paid for).
Private & school groups wishing to make a Snorkel Safari booking can find out more information on our Underwater Explorers page.
If you have booked a Snorkel Safari with us then please see our FAQs listed below and please Contact Us if you need any further information. 
We have just got back from a snorkel safari under the guidance of Coral and her team. We really enjoyed the whole experience and would definitely recommend as a great way to learn about our local habitat. 5 stars!
Check out some of the underwater wildlife we've spotted right here in Wembury Bay on our recent Snorkel Safaris!
Snorkel Safari FAQs
Find out answers to frequently asked questions about our Snorkel Safari events for the general public and educational groups
How much does a Snorkel Safari cost?

Snorkel Safari events cost £20 per participant and we have full equipment to borrow in a wide range of adult and child sizes at no additional cost (loss and/or damages must be paid for).
What is involved in a snorkel safari at Wembury Beach?

We will cover the basic snorkelling techniques followed by a snorkel around Wembury's  famous rocky reefs, searching for and identifying underwater marine life, whilst following our Seashore Code ethos of enjoying and respecting marine life with minimal disturbance.
What qualifications do the instructors hold?

The Instructors hold BSAC Snorkel Instructor qualifications and at least two members of the team will hold first aid qualifications, including the Shore Cover member of the team.
How old do you have to be to attend a snorkel safari?

Children must be 8 years or over to attend our snorkel safaris.
Are the snorkel safaris just for children/families?

No…Snorkelling is for everyone! Adults are welcome to book on to any of our snorkel safaris and we usually have a dedicated adults only snorkel safari in September each year.
What's included in the cost?

The cost includes full kit hire, teaching of the basic snorkelling techniques in an open water environment as well as local marine species identification.
Do I/does my child need to be able to swim to attend a snorkel safari?

Yes! You/your child must be able to swim at least 50 metres and you will need to sign a disclaimer to this effect before taking part in our snorkel safari.
Do you have kit I can borrow/hire?

Yes! We have thick, full length wetsuits, masks/snorkels and fins.  We also have hoods and gloves for children & small adults.  We ask you to fill in a kit booking form prior to the event in order that we can make sure we have enough kit for everyone.  We also ask for a £20 cash deposit before the session starts, which will be returned at the end providing no kit is lost or damaged.
What else do I need to bring?

Please bring a rash vest and beach shoes/wetsuit boots (if you have them), swimming shorts/costume, towel, warm clothing for afterwards, any medication, inhalers etc., snacks and drinks as necessary.
Do my children need to be accompanied by an adult?

Children do not need to be accompanied by an adult in the water, but an adult must remain on site/on the beach for the duration of the event.
Do I have to pay if I want to join my children?

Yes please – we can only take a certain number of people in the water on each session, plus snorkelling is fun for everyone!
What if I have an underlying health issue?

Snorkelling in the sea in the UK can be considered a high-risk activity due to the water temperature and nature of the open seawater environment. If you or your child have an underlying health issue, particularly respiratory, epilepsy or diabetes, then please get in touch with us before booking to discuss.

A medical disclaimer is required for each participant (signed by a parent or guardian if the participant is under 18 years of age).
Are there any other charges in order for me to attend a snorkel safari at Wembury Beach?

The car park is owned by the National Trust and their car park charges apply (National Trust members park free of charge).  Please note, during the busy summer season the car park can fill up as early as 11am, so please consider arriving early or finding alternative parking or transport.
What facilities do you have on site?

In addition to the Marine Centre, which is managed by us, Devon Wildlife Trust, there are public toilets, an outdoor shower on the toilet block, a disabled toilet inside the Marine Centre and a café & small shop on site.  We can store your belongings in our locked office and any valuables/glasses can be given to the shore cover to keep in a dry bag whilst you are in the water.
What happens if the weather is bad on the day of the snorkel safari?

We continually monitor the weather forecast in the week leading up to each planned snorkel safari.  If the wind forecast looks bad, then we will try to email you with at least 24 hours notice and offer you an alternative date where possible or a full refund.
What happens if I can no longer make the snorkel safari I've booked on to?

You will be eligible for a refund if you cancel more than 7 days before the event, but please note the Eventbrite booking fee will be deducted. Please email us if you wish to cancel and we will begin the process.  Any cancellation made within 7 days of the event is not eligible for a refund, but may be granted only if the space(s) can be filled.
How long will we be in the water for?

The event is scheduled for 2.5 hours, but this includes sorting the kit for all participants and changing time beforehand, as well as a brief introduction in the Centre.  We are usually in the water for around an hour, but participants can exit when they like.  If your child is attending the Snorkel Safari and exits the water before the rest of the group, then you will need to be nearby to get them changed as we cannot bring children back to the beach until everyone is out of the water.
How much snorkel experience do I need to join a snorkel safari?

Our snorkel safaris are suitable for beginners or more advanced snorkellers and we will try to split you into small groups accordingly.  We will cover basic snorkelling skills & safety techniques followed by a guided snorkel around Wembury's famous rocky reefs, searching for and identifying our amazing underwater marine life.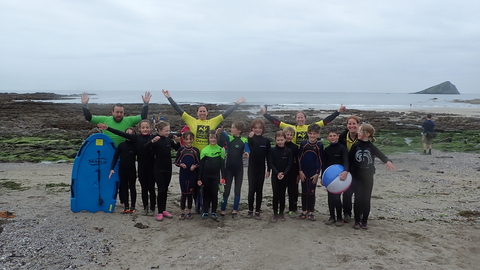 Support our work here: