Come and join us on an underwater adventure right here in Wembury Bay!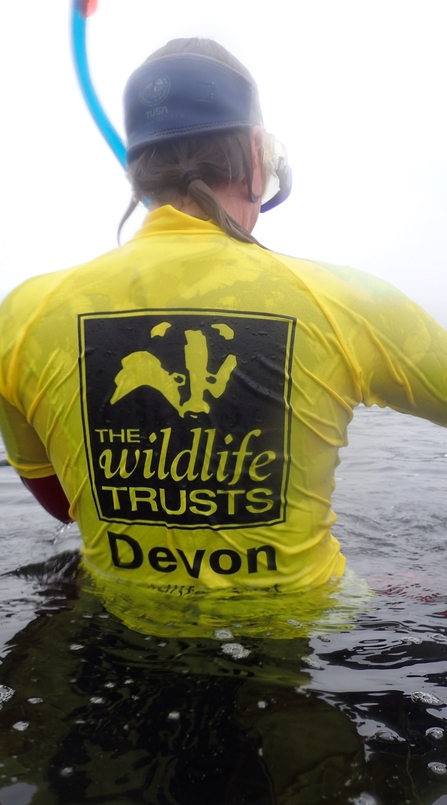 Wembury Marine Centre offers guided Snorkel Safari sessions to schools, colleges & other educational groups. In addition, other groups can book a private snorkelling session with us.
We are a BSAC accredited Snorkel Centre with fully qualified Snorkel Instructors and specific insurance for our snorkelling sessions to take place in the open sea.
These sessions include an introduction to basic snorkelling techniques followed by a mini-Snorkel Safari in Wembury Bay.
We have a large quantity of snorkelling equipment in a range of sizes which can be hired by groups at no additional cost (loss or damages must be paid for). 
To ensure the safety of all participants there are restrictions on the number of participants plus their age & swimming ability and a medical disclaimer must be signed by the parent or guardian of each participant.
Snorkel Safaris can generally take place from the end of June each year and can run through until early October, we have limited availability each year so please Contact Us well in advance to make a booking.
Please see the Frequently Asked Questions below or Book Now
The ladies and I were incredibly appreciative with everything, especially how well the whole thing was run and how amazing all the staff and volunteers were.

Women's Challenge Club, Devon
Frequently Asked Questions about snorkelling with an educational or private group:
What is the cost for a guided Underwater Explorers session?

A guided Underwater Explorers session is charged at £15 per participant, this includes equipment hire.
What qualifications do the instructors hold?

The Instructors hold BSAC Snorkel Instructor qualifications and at least two members of the team will hold first aid qualifications, including the Shore Cover. 
What is the maximum number of pupils/participants can take part in a snorkel safari?

We can take a maximum of 12 pupils/participants in each session and can run a maximum of two sessions per day.  Please book well in advance to avoid disappointment and please encourage any participants to bring their own kit if they have it.
What is the minimum number of pupils/participants for a private/school booking?

The minimum number of participants is 6 or the equivalent cost.  Please Contact Us to discuss numbers and charges.
How old do you have to be to take part in a guided Snorkel Safari?

All participants must be 8 years old, this is the minimum age for insurance reasons and is non-negotiable.
What are the swimming requirements for group participants?

Participants of all ages must be able to swim at least 50 metres. A disclaimer to this effect must be signed by each participant or the parent/guardian of each participant and returned in advance before taking part in our Snorkel Safari.
What about participants with underlying health issues?

Snorkelling in the sea in the UK can be considered a high-risk activity due to the water temperature and nature of the open seawater environment. If you have a participant with an underlying health issue, particularly respiratory, epilepsy or diabetes, then please Contact Us to discuss. A medical disclaimer will need to be completed and signed by the participant or the parent or guardian of each participant and returned to us in advance of your booking.
What about snorkelling equipment and wetsuits?

The Marine Centre has thick, full length wetsuits, masks/snorkels and fins in a range of sizes.  We also have hoods and gloves for children & small adults. Each group participant will need to complete a kit booking form prior to the event so we can make sure we have enough kit for everyone.  

There is no additional hire charge for equipment but any kit lost or damaged during your booked session will be charged at £20 per damaged or lost item - for example, if one of a pair of fins is lost, a wetsuit is ripped or a snorkel and/or mask is lost. 
Do staff/adults need to be in the water with participants who are 8 - 17 years old?

There's no requirement for your staff/adults to be in the water, we cover all the safety ratios with our own staff and volunteers. If you have young people with additional needs and they will need your help in the water then please Contact Us to discuss this further. In general, we offer one free place for extra adult support per session and additional adults would be charged at the group rate. 
Where can my pupils get changed?

There are public toilets with lockable cubicles at Wembury beach and a disabled toilet inside the Marine Centre.  Encouraging pupils to come dressed in their swimming gear will make things easier and quicker.
Do you have additional activities for pupils who don't want to snorkel?

Unfortunately not, we do not have the capacity to offer additional activities or look after the welfare of these pupils, so a teacher/staff member will need to do this.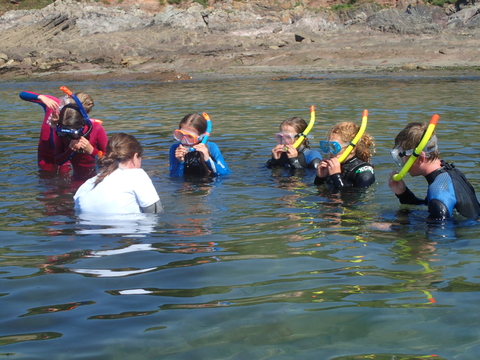 Support our work here: