Come and join Wembury Marine Centre's volunteer team!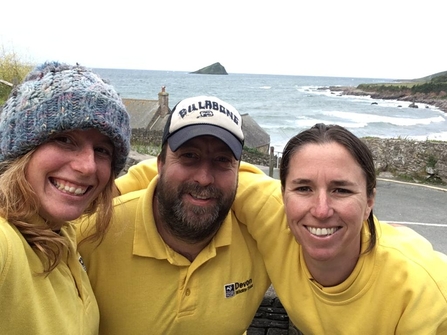 Devon Wildlife Trust's work at Wembury Marine Centre is supported by a fantastic team of volunteers who help out whenever they can.
Many of our rockpooling events and sessions for schools could not run successfully without them.
We welcome help at weekends and during the week and there is no minimum commitment – volunteers can give as much time as they can spare.
And you don't have to be a rockpooling expert to get involved!
If you are interested in joining our team of volunteers, please Contact Us for more details.
"The period whilst I was volunteering at Wembury Marine Centre was the best six months of my life so far; I gained knowledge and skills which will stay with me and have helped to shape my CV for the future."

Full time volunteer, 2018 season
Volunteering at Wembury Marine Centre really did change my life! It helped build my confidence and become strong at delivering public engagement, which led to my job at the Ocean Conservation Trust, I wouldn't have achieved my job there if it hadn't been for Wembury!

Marine Awareness Intern, 2016 season
Make a difference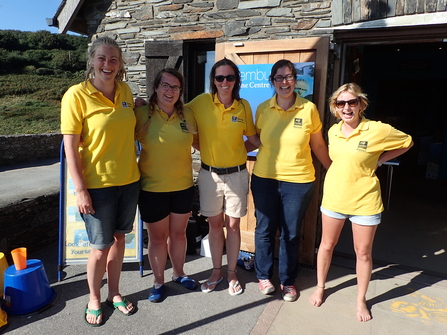 Volunteering with Devon Wildlife Trust at Wembury Marine Centre is a great way to use your skills to make a difference for Devon's wildlife. As well as supporting wildlife, volunteering at DWT offers many benefits.
Volunteering can build confidence and help you to develop and/or share skills, it can help build CV skills for your future. Volunteering is a great way of staying healthy, connected with others and leaves you feeling valued and purposeful.
Volunteers bring a broader point of view and help us to build strong links with the communities we engage with. They enrich our work with a wealth of experience, expertise, infectious enthusiasm and energy. Without our volunteers, we wouldn't be the organisation we are today.  
I really enjoyed my time volunteering for Wembury Marine Centre, I credit my time there with helping me to pursue a career in conservation and to bridge the gap between, graduate with no experience and gaining employment in the sector.

Full time volunteer, 2015
Volunteering at Wembury Marine Centre
Frequently Asked Questions and Answers
Is there a registration process to volunteer at Wembury Marine Centre?

Yes, for safeguarding reasons we have a registration process for all new volunteers which includes taking references. Please Contact Us to receive further information and a task brief for our volunteering role.

Devon Wildlife Trust (DWT) manages Wembury Marine Centre and all new volunteers are registered with DWT when they start volunteering at the Centre. 
How old do you have to be to volunteer at Wembury Marine Centre?

Wembury Marine Centre welcomes volunteers of all ages and all backgrounds although for insurance reasons we do have some restrictions on volunteering for anyone under 18 years of age.

Young people aged 16 & 17 years old may join our volunteer team with parental permission, a parental consent form must be completed alongside a volunteer registration form and we will require a reference.

Young people must be a minimum of 14 years old to join our volunteering team and we only offer volunteering to 14 & 15-year-olds through the Duke of Edinburgh Award scheme. Young people must be registered for these Awards (through school or another provider) before they contact us and we will require a reference and confirmation from their DofE coordinator.

For insurance reasons, we do limit the number of young (under 18) volunteers in our volunteer team each year and they are not permitted to help with our snorkelling events.

If you are under 18, please Contact Us to discuss volunteering in more detail.
Does Wembury Marine Centre offer school work experience placements?

Wembury Marine Centre offers a small number of school work experience placements each year and only during our main season (April - September). 

Please Contact Us directly if you would like to complete your school work experience with us - we need to hear directly from the young person and not from their school or parent/guardian, and we will require an email with CV and covering letter stating why you are interested in completing work experience with the Centre.

We would encourage you to Contact Us early as we only have a limited number of places available. We prefer to offer to students from local schools and we prioritise applications from Year 12 students.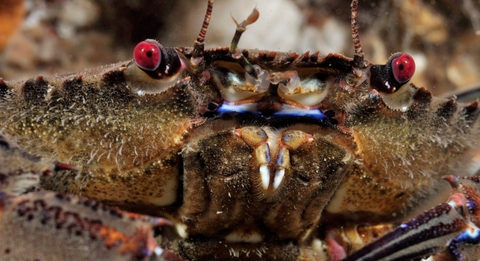 Support our work here: